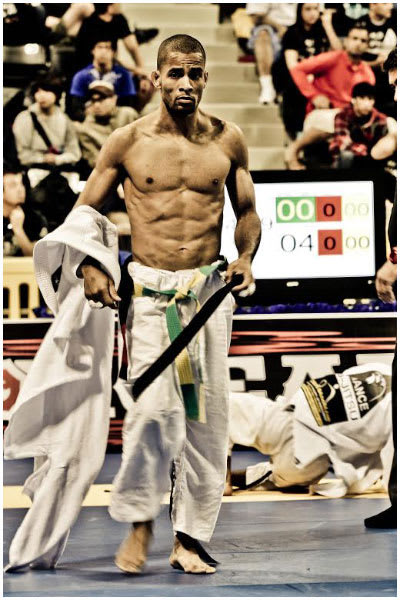 Josef "Ze Cobra" Manuel
Professor Josef Manuel's extraordinary journey within the martial arts spans over 20 years. His introduction into this curriculum transpired through the study of Boxing. After rigorous Boxing training, a daunting question erupted, "When your opponent attempted a clinch or a takedown, what do you do?" Like many Jiu-Jitsu practitioners, watching the very first editions of the Ultimate Fighting Championship (UFC) that Josef witnessed the effectiveness of the art of Brazilian Jiu-Jitsu.
In 2001, Professor Josef Manuel was introduced to Mestre Mario Lemos, a lifelong student of the Grandmasters Rickson and Royler of the famed Gracie family. Mestre Mario Lemos began to mold Josef in the strategic & detailed self defense system of Gracie Jiu-Jitsu. Mario injected Josef's game with the material he learned first hand from Grandmaster Helio Gracie and the Gracie brothers. On his quest to learn from the best, Professor Josef Manuel set out to Brazil in 2004 in search of one of the greatest Jiu-Jitsu light featherweight players ever: Robson "Robinho" Moura. Since then, Professor Josef Manuel has trained, studied, and traveled with Master Robson as a friend, instructor, competition team representative, and global association representative.
"As I lay on the mat in High Point, NC, this past weekend, my body ached in exhaustion. The group had taken lunch, and I had hobbled over to the corner of the mat for a short 'siesta.' I was on the brink of a replenishing slumber when Professor Snyder made the call to get up and prepare for the next professor's class. I hopped up at the speed of light and gathered the remaining students over to the side wall. This smaller fellow took the floor. He began to speak about his academy and methods of teaching. You could tell he knew what he was talking about immediately.
Testimonial
He initially didn't divulge about martial arts but attitude. He spoke about how in New Jersey the folks aren't as naturally friendly as we are here in the south. He wasn't running anyone down, just relaying the thought that it's nice to smile and be friendly, rather than go through life like you just tasted sour lemons. As we began to watch the 'Ze Cobra' move, it was obvious this guy was the real deal. What an awesome opportunity to train with such a high level black belt under the great Robson Moura.
Josef Manual is an IBJJF Black Belt world champion. He is one of the most amazing, grounded men you'd ever work with, yet humble as one can be. This guy could have been born in the south, if it weren't for his NJ accent!Again, my theory that the toughest guys you know are usually the nicest continues to hold true. Even though Professor Manual can choke you out with his pinky toe, he understands that being able to hurt people also requires a certain amount of humility and humanity."
-Kevin "Hurricane" Hudson May 6, 2016